About keys
The two small circles on the parameter track represent the keys. There is a key at the start and a key at the end of the animation. Each key corresponds to a value of the parameter to be animated.
To view the current value of a key, place the mouse cursor over it. The value of the key appears in the tool tip: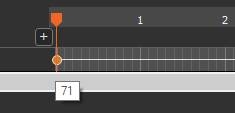 Changing the value of a key
To change the value of a key, either:
Double click on the key.
Open the contextual menu by right-clicking on the key and select Change key value.

A window opens where you can modify the key's value.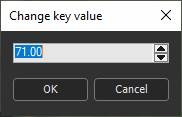 The initial value of the key is the current value of the parameter at the time the track for this parameter was created. If a smaller value is entered and validated, the curve is updated.



Selecting an animated node
Before playing an animation, you need to select the animated node so that its terrain appears in the 3D view, or select a node downstream in the graph.
You can also do this from the Graph explorer window.
To select an animated node, right-click on the empty line to the right of the node name to open the contextual menu and select Select node.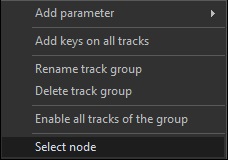 Playing the animation
Select the animated node or a node further down in the graph.
Click on the Play button:

The terrain changes in the 3D view.
---
Copyright © 2022 · All Rights Reserved · Wysilab
---