With component libraries (.terralib files), it is possible to share components between multiple projects.
To do so, import the .terralib file into the project.

See also Opening .terralib files to see how you open global library files.
Some components are available for all projects without the need to import them. These components are stored in the default folder: Documents\Instant Terra\Components.
The default folder used for the global components can be changed and defined in the global settings.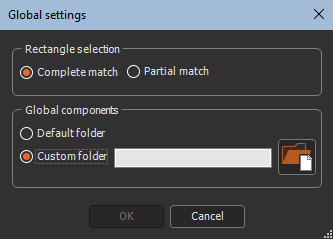 If you used a different folder before, move all your global components to this new location.
When a .terralib file is stored in this directory, the components it contains are automatically available for all projects.
These components are not editable: it is not possible to change their name or visualize their graph.
If a .terralib file in the Documents\Instant Terra\Components folder is updated, the component is automatically updated when you open a project that uses one of these components.
Some useful, ready-to-use components to use directly in your projects are available to download from our website.