Adding list parameters
You can create a list of parameter values and apply one of them at a time to a custom node to view their effects.
To create list parameters, open the custom node graph and select Create node > New custom node > List parameter in the contextual menu. A new node is created.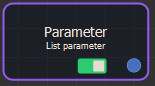 Double click on the List parameter node to open its parameters.