Adding a Constant node
The Constant node is a simplified Parameter node. It has one output node. You enter a value to be used by the node to which it connects.
To add a Constant node, select Edit in the main menu or right-click in the Graph Editor and select Create Node > Calculation > Constant.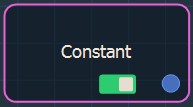 Double click on the node to open its parameters.