Adding a Minus node
The Minus node subtracts two input numbers to generate an output number. It is an alternative to the Formula node, but allows you to code a formula as a graph rather than a formula.
It has two input connectors and one output connector and subtracts the first input value over the second input value.
To add a Minus node, select Edit in the main menu or right-click in the Graph Editor and select Create Node > Calculation > Minus.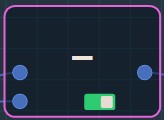 The Minus node has no parameters.