Adding a Parameter node
Linked to an optional connector or a Calculation node, the Parameter node defines the minimum and maximum values, and the number of decimal places for these values. The output value is set using a slider.
To add a Parameter node, right-click in the Graph Editor and select Create Node > Calculation > Formula.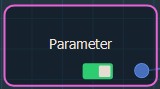 Double click on the node to open its parameters: