Adding an Advanced snow node
The Advanced snow node generates a layer of snow and applies a snow color map to a terrain at locations defined by parameters.
The node has one input: a terrain with or without a color map. If the terrain input does not have a color map, a neutral color ramp is applied and is visible in places not covered by snow.
The node has three outputs: the terrain to which the snow layer has been added and with an updated color map, the snow mask, and the layer of snow that has been added.
To add an Advanced snow node, right-click in the Graph Editor and select Create Node > Colorize > Advanced snow.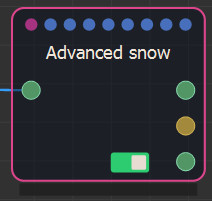 Select the node to open its parameters: