Adding a Snow node
The Snow node applies a snow color map to a terrain at locations defined by parameters.
This node does not modify the terrain.
The node has one input: a terrain with or without a color map. If the terrain input does not have a color map, a neutral color ramp is applied and is visible in places not covered by snow.
The node has two outputs: the unmodified terrain with an updated color map and the snow mask.
To add a Snow node, right-click in the Graph Editor and select Create Node > Colorize > Snow.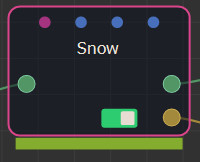 Select the node to open its parameters: