Adding a User ramp colorize node
This node is similar to the Ramp colorize node, but instead of using color themes, it takes a color ramp as input, allowing more freedom in the choice of colors.
This node also accepts an input optional mask in order to choose the places where the terrain is colored. Where the mask is black, if the input terrain has a color map, it is used; otherwise, a color map is created from the predefined color ramp.
To add a node, right-click in the Graph Editor and select Create Node > Colorize > User ramp colorize.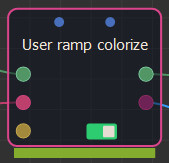 Double click on the node to open its parameters: