Adding a Cutout node
The Cutout node transforms a mask by creating a number of levels. The node has two inputs, a mask to transform and an optional mask to define the areas where the levels are generated, and an output mask.

To add a Cutout node, right-click in the Graph Editor and select Create Node > Mask Transformation > Cutout.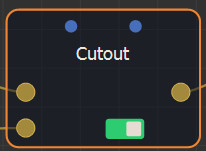 Select the node to open its parameters: