Adding a Directional blur node
This node applies a blur on a mask in a given direction.
The intensity of the blur is determined by a second mask that causes the displacement on the mask to modify. This mask is called the control mask.
To add a Directional blur node, right-click in the Graph Editor and select Create Node > Mask transformation > Directional blur or use the keyboard shortcut NMDB for Node Mask Directional Blur.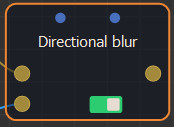 Double click on the node to open its parameters: