Adding a 4-direction warp node
This node deforms a mask by applying a deformation in four different directions and by mixing the results obtained.
The node has three input connectors, the mask to modify, a mask that defines the intensity of the deformation, and an optional mask to define where the effect should be applied.
The output is a mask deformed in four directions.
To add a 4-direction warp node, right-click in the Graph Editor and select Create Node > Mask transformation > 4-direction warp or use the keyboard shortcut NM4W for Node Mask 4 direction Warp.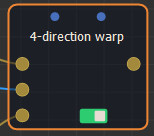 Double click on the node to open its parameters: