Computation output
This combo-box allows you to the change the way the cellular generator works internally. Every alternative uses the same strategy: it constructs a grid with points sampled all across the terrain. Each of those samples act as a little radial generator.

Cells, More cells, and Even more cells create convexities based on the closest, second closest or third closest radial generator.

Bumps, also known as "F2 – F1" in some software uses two radial generators to creates bumps or scales along the terrain.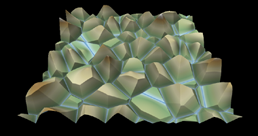 Flats, More flats, and Even more flats force the samples to diffuse a constant height which can be useful when texturing the terrain or defining biomes.