Adding a Swirl node
Distort a terrain or mask with a swirl effect and set the location of the center of the effect and define the swirl angle to apply.
Your browser does not support the video tag.
To add a Swirl node, right click in the Graph Editor and select Create Node > Terrain Transformation > Swirl.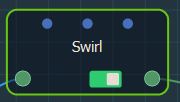 Select the node to open its parameters: