Adding a Stretching warp node
This node applies variable deformations to warp a terrain.
The node has one input connector, the terrain to modify, and an output terrain connector.
To add a Stretching warp node, right-click in the Graph Editor and select Create Node > Terrain transformation > Stretching warp or use the keyboard shortcut NTSW for Node Terrain Stretching Warp.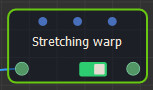 Double click on the node to open its parameters: