Connecting nodes with a link
To connect nodes with a link, click on a connector on the first terrain and drag the mouse cursor to the connector on the second terrain, and release the mouse button.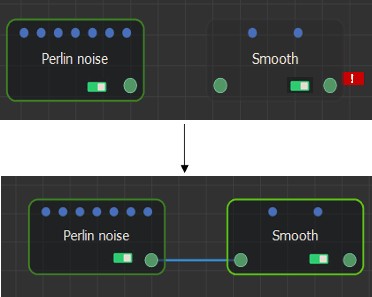 You can also click the left mouse button on a connector or optional connector, drag the mouse, and release it in an empty area to display the Fast-creation menu, which lists the compatible nodes. Select a node from the list to link it automatically from the output connector.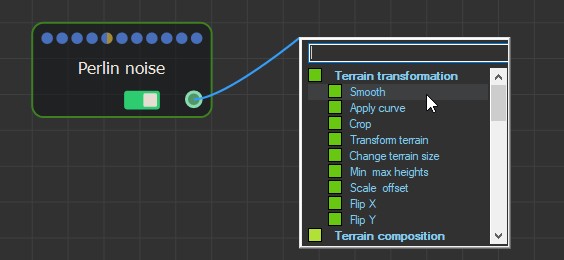 See Creating a node for more information on the different ways to add nodes.
You can create several links from one output connector.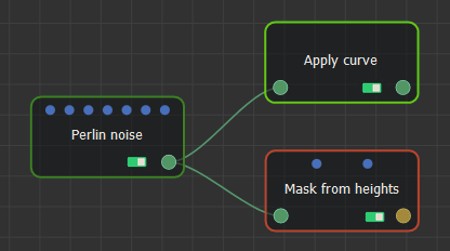 When creating a new node while an existing node is selected, Instant Terra will automatically connect the new node to the existing node, when possible, so you can create several nodes in a row, which are linked automatically.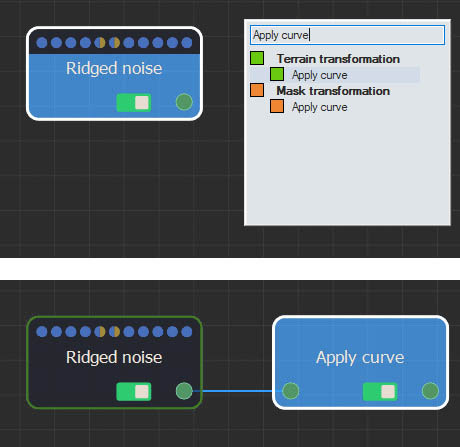 For example, when you type TAB Ridged ENTER TAB Apply ENTER TAB Smooth ENTER, you achieve:

You can also use the keyboard shortcuts to create the nodes. For example, when you type NNR NTAC NTSM, you achieve:

Forbidden links
If the mouse cursor changes into a "no-entry" sign, it means that the two connectors cannot be connected together.

This is the case if the two connectors are two input connectors or two output connectors, or if they do not have the same type (e.g. terrain and mask). For example, the Perlin noise node generates an output terrain, but the Reduce mask node expects an input mask, so they cannot be connected.
It is also forbidden to create a new link that would create a cycle inside the graph.