Adding an Apply color map node
This node applies an imported color map to a terrain. The output terrain is the same terrain as the input terrain, but with a color map.
To add a node, right-click in the Graph Editor and select Create Node > Color > Apply color map.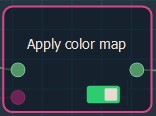 This node has no parameters.