Adding a Compute normal map node
This node extracts a normal map from an input terrain or composed terrains. It computes the normal map to be able to add surface detail such as bumps, grooves, and scratches to a model that catch the light as if they are represented by real geometry.
To add a node, right-click in the Graph Editor and select Create Node > Color > Compute normal map.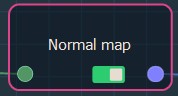 This node has no parameters.