Adding a mask Add node
This node adds two masks. At each vertex, the value of the output mask is the sum of the values of both input masks.
To add a node, right-click in the Graph Editor and select Create Node > Mask Composition > Add.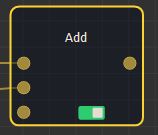 This node has no properties.