Adding a Mask from heights node
This node creates a mask from the heights of a terrain. The mask created has the same size and resolution as the input terrain.
To add a Mask from Heights node, right-click in the Graph Editor and select Create Node > Mask Generation > Mask from heights.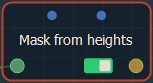 Double click on the node to open its parameters: