Adding a Hydraulic erosion node
The Hydraulic erosion node creates realistic erosion and deposition effects caused by rainfall and river flows. This simulation follows three basic rules: when water flows over terrain, it can erode it (i.e. carve rivers or at least weather the slopes); as water flows downhill, it transports the eroded materials with it; as the water settles out, it releases the suspended soil particles, thus creating sediment depositions.
To add a Hydraulic erosion node, right click in the Graph and select Create Node > Simulation > Hydraulic erosion.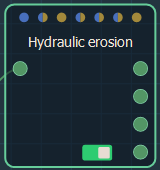 The connectors from top to bottom correspond to:
The eroded terrain
The sediment elevation
The water elevation
Water accumulation
Double click on the node to open its parameters: