Adding a Smooth node
This node smooths a terrain by replacing the height of a vertex by the average of the height of its neighbors. This average value and the initial value are blended.
To add a Smooth node, right click in the Graph Editor and select Create Node > Terrain Transformation > Smooth.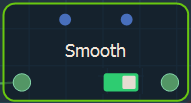 Double click on the node to open its parameters: