Adding a Rock erosion node
The Rock erosion node simulates realistic rock erosion through a series of iterations on the entire terrain that determine the movement of sediment due to gravity. This type of geological process is sometimes referred to as thermal erosion, thermal shock, material slippage, or talus deposition.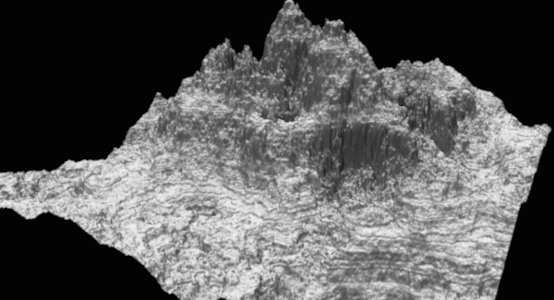 The simulation creates an accumulation of sediment at the base of crags, mountain cliffs, volcanoes, or valley shoulders due to small portions of the material from adjacent cliff faces crumbling and piling up at the bottom of an incline. Currently, increasing the number of iterations creates more erosion while decreasing the number of iterations results in less material transport.
To add a Rock erosion node, right-click in the Graph Editor and select Create Node > Simulation > Rock erosion.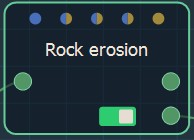 The connectors from top to bottom correspond to:
The eroded terrain
The sediment elevation
Erosion and deposition
Double click on the node to open its parameters: