Adding a Thermal erosion node
The Thermal erosion node creates thermal erosion on a terrain. Thermal erosion is similar to hydraulic erosion, with the addition of the possibility that the banks of the rivers collapse, giving rise to wider rivers.
The node has four outputs:
The eroded terrain
The height of the sediment
The depth of the water
The cumulative water height
To add a Thermal erosion node, right-click in the Graph Editor and select Create Node > Simulation > Thermal erosion or press the keyboard shortcut NTE (Node Thermal Erosion).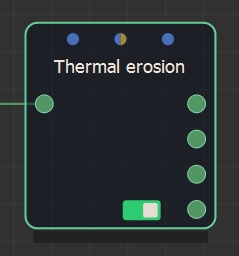 Double click on the node to open its parameters: