Changing the terrain details
Use the sliders to change the parameters: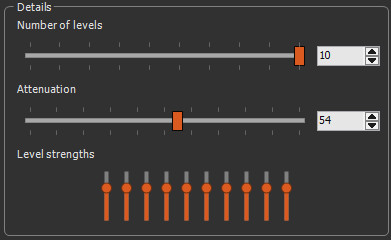 Number of levels: The default number of levels of detail is 8. Each level has double the frequency of the previous level. In the example below, the number of levels is reduced from 8 to 4.

Attenuation: This corresponds to the attenuation of a level of detail against the previous one. If this value is low, the high-frequency levels of detail dominate and generate a high-frequency noise. If this value is high, the high-frequency levels of detail are less visible, as shown in the example below.

Level strengths: This corresponds to the strength of each of the levels using an equalizer. The equalizer has as many bars as defined levels. Only 5 bars are visible because only 5 levels are used: the leftmost level is the main level, i.e. the larger level, and each subsequent level adds details that are twice as detailed as those in the previous level.
For example, if only one level is used:

If you increase level 4, you add details of medium size:

If instead of level 4, you increase level 6, you add more detail:

Right-click on the equalizer and select Reset to return to the default settings.
Attenuation corresponds to the decrease in strength when going from one level to the next. The effects of attenuation and individual adjustments of each level combine to give the final result. It is advisable to adjust the attenuation first, then to fine-tune with the individual adjustments.