Adding an Profile curve node
This node creates a terrain from a curve. You draw the terrain profile by drawing a curve. The terrain height is not affected radially from the outside to the inside as in the Circular symmetry node, but linearly from one side of the terrain to the other.
To add an Profile curve node, right-click in the Graph Editor and select Create Node > Terrain Generation > Profile curve.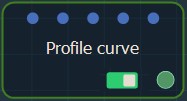 Double click on the node to open its parameters: