Downloading a region
Once the selected area is suitable, click the Download region button in the top left of the window.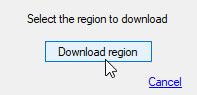 A window opens, which summarizes the size of the selected region in kilometers and allows you to choose the resolution of the terrain to download.

Precise: one point every 30 meters approximately.
Coarse: one point every 90 meters approximately.

Choose the name of the import node that will be created.
Name the file in TIFF format that will contain the downloaded terrain.
Click the Start download button: Instant Terra connects to the portal.opentopography.org site to download the selected terrain.
When the download is complete, an import node is automatically created to import the downloaded terrain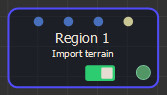 When downloading several regions one after the other, the nodes are created one below the other.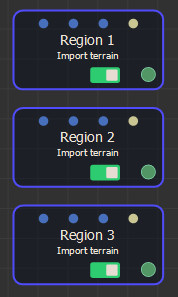 If the download area is too small (approximately less than a square kilometer), a message is displayed:

If the area to download is too large (more than 4,050,000 km²), a message is displayed:

If the area is between 450,000 and 4,050,000 km², it can be downloaded with a reduced resolution (Coarse), but not with a Precise resolution. In this case, the Precise resolution option is grayed out.

If your downloads remain in the state 'Connecting to the server ...' or searches are unsuccessful, your firewall may be blocking connections. To resolve this situation, add InstantTerra.exe (usually installed here: C:\Program Files(x86)\Wysilab\InstantTerra) to the firewall white list.