Adding a Upscaling node
The Upscaling node is used to increase the resolution of a terrain. It is particularly suitable for downloaded terrains, for example from the World browser window, which often have low resolution. It allows you to add details to the terrain as noise.

You can also set the sea to an altitude of 0 and detect the lakes (flat surfaces) to avoid adding details to them.
Use with a Colorize Satellite node to render your terrain easily.



To add a Upscaling node, right-click in the Graph Editor and select Create Node > Terrain Transformation > Upscaling.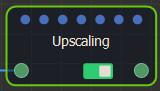 Select the node to open its parameters: